Rosh HaKollel, Rabbi Michoel Ber Weissmandel shlita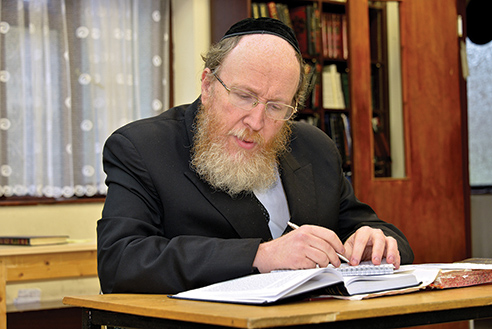 Rabbi Michoel Ber Weissmandl, Rosh Hakollel Heichal Hatorah, is a man with a mission. Following his marriage, Rabbi Weissmandl studied in the Kollel of the world famous Yeshivas Mir, Yerushalayim before returning to England to continue his advanced Rabbinic studies in the Manchester Kollel.
He was associated with the saintly Manchester Rosh Yeshivah, Rabbi Yehudah Zev Segal zt"l, whom he considers his foremost mentor. However, Rabbi Weissmandl maintains close ties with many other world renowned personalities. He was awarded Rabbinical ordination by the previous Gateshead Rav, Harav Betzalel Rakow zt"l and ylch"t Harav Tuvya Weiss shlit"a, present head of the Badatz Yerushalayim.
Rabbi Michoel Ber Weissmandl bears the name of his illustrious uncle. Harav Michoel Ber Weissmandl zt"l was a Rosh Yeshivah in Nitra, Hungary, but he became an outstanding activist who worked tirelessly throughout the dark war years to save Jewish lives. In many unpublicised incidents, he managed to snatch lives from the jaws of death. Unfortunately, on many occasions his lone voice pleading for help was ignored and he passed away after the War with a broken heart.
Thirteen years ago, his nephew was inspired to pick up the torch of our mesorah, the sacred Jewish tradition, and continue the work of bringing the light of Torah into the world. The formation of the Kollel Heichal Hatorah has become a major element in the amazing renaissance of the Jewish people in general and the Manchester community in particular. Since the doors of its Beis Hamedrash were opened, scores of young married men have been encouraged to develop their outstanding talents in Torah scholarship for the ultimate benefit of Am Yisroel.